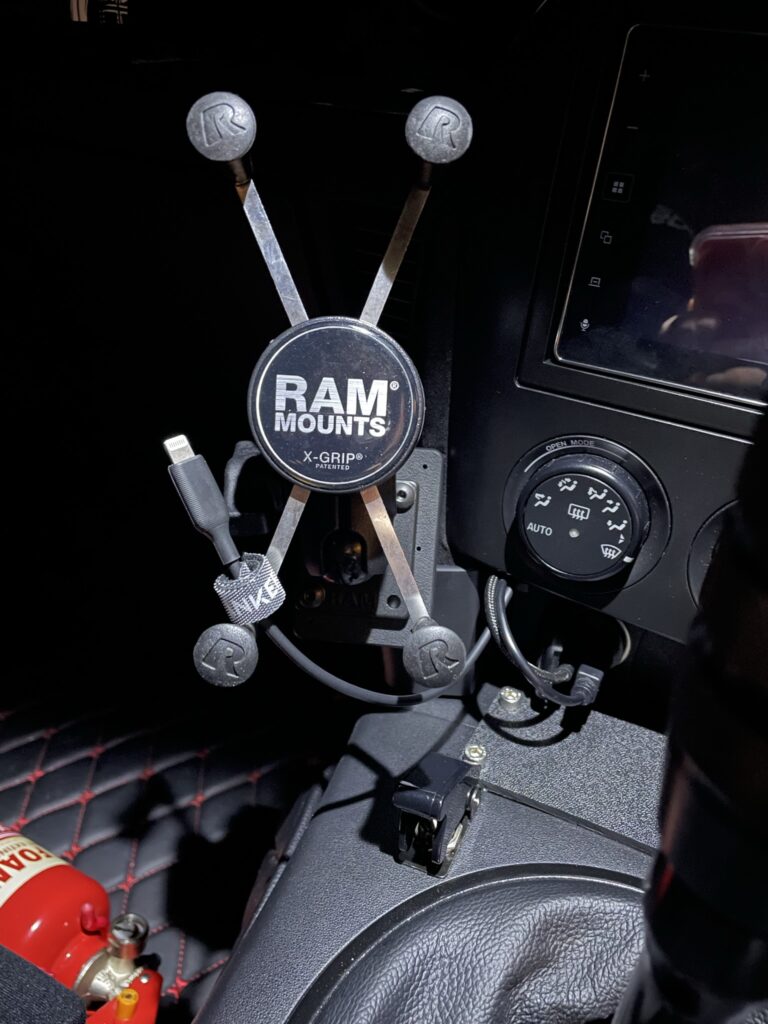 Brief overview.
So, I've been wanting a high quality, stable phone mount in my NC1 for a while now. Until then I've been placing my iPhone 12 in my I.L. Motorsport centre storage compartment (cupholder delete). This was fine for about three years. But now I've been keen on using my Draggy and other vehicle statistic apps to benchmark my times.
The details.
What is my setup then? Well, it's relatively straightforward. I am using a Brodit P-clip that attaches to the NC1 passenger side (RHD, so left triangle panel by the radio) piece. It simply clips over and attaches strong. Very snug fit. Especially with Stuart's (COO Creations) Alcantara wrapped triangles. Then it attaches to a RAM 1″ ball base mount. Part number: "RAM Mounts RAM-B-347U". Due to the position on the Brodit mount I only use the three out of four M5 holes. For hardware I use these chemically coated black stainless hardware from "jac.bolts" on eBay. I use their black stainless (M5 x 20mm) button-head allen bolts, their black stainless M5 nylocks and finally their black stainless (M5 I.D. x 10mm O.D.) flat penny washers on front and back. Why did I use this black stainless stuff? I've seen it lurking about on eBay for a while now. Liked the idea of black nuts, bolts and washers on the interior and the added fact their stainless if the coating does get nicked would be very unlikely to rust. After all its "stain-less" not "stain-proof". So was a good excuse to use fancy hardware.
From that 1″ RAM mount ball I use the shortest RAM female to female straight arm you can get. I believe it's approximately 2.5″ total length including both ball joints. Part number: "RAM Mounts RAM-B-201U-A". From the end of that I use the ever so popular RAM X-grip phone mount. This mount applies plenty of spring pressure to retain your phone even in some bumpy and vibration prone environments. In RAM's example superbikes! Part number: "RAM Mounts Ram-Hol-UN10BU".
This setup even works well with me seeing my phone with very little amount being blocked by my G-Racing short-shifter from my seating position. I have a Pioneer SPH250DAB Apple Carplay radio that I use in conjunction with this phone. So, I have a 0.8Metre USB type-a to lightning connector Anker cable that I run under the radio-surround just under the climate controls.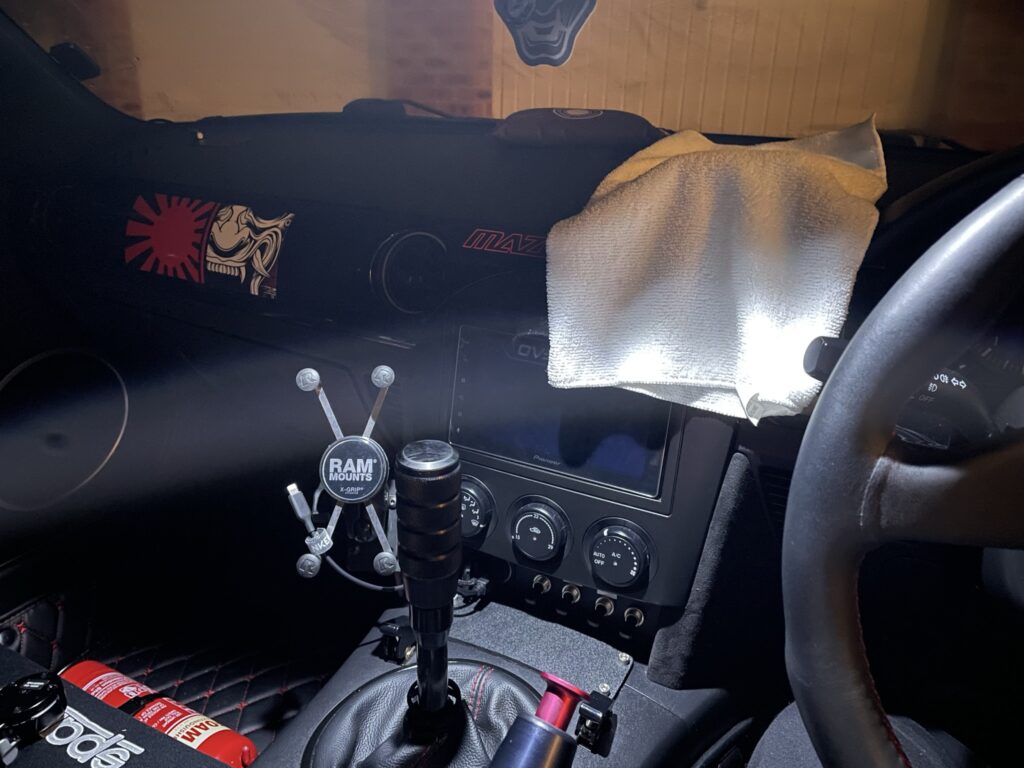 But that is my phone mount. Short and simple little article about my setup. If you're looking to get a Brodit mount, don't make the same mistake as my mate Stuart by purchasing the NC1 version if you have the later NC2/NC3 style radio-surrounds. They are totally different mounts, due to the Mazda interior changes. Hope this has been helpful to some.